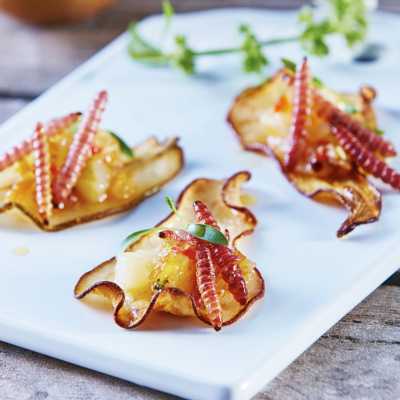 Pear Chips with Gusanos de Maguey
Baked pear chips smothered in pear chutney and fried Maguey worms. Maguey worms are considered a highly nutritious delicacy in Mexican cuisine. Recipe and images by USA Pears Mexico
INGREDIENTS
Pear chips     
2 Bosc Pears
2 cups sugar
2 cups water
Maguey worms
1 ¼ cups Gusanos de maguey (maguey worms)
2 cups oil
Pear Chutney
3 Anjou Pears, cut into cubes
1 cinnamon stick
1 tsp curry
½ onion, finely chopped
¾ cup sugar
1 spoon ginger
¼ cup apple vinegar
DIRECTIONS
Pear chips: To prepare the delicious pear chips, boil water and sugar for 20 minutes or until you obtain syrup; set aside.
Finely slice pears and glaze with syrup.  Place on a silicon tray and bake at 180°C for 10 minutes.  Turn chips over and bake for 10 minutes.
Maguey worms: Season maguey worms and fry them in hot oil until crispy.
Pear Chutney: Place all chutney ingredients in a skillet over low heat, cook for 10 minutes stirring constantly.
Place pear chips on a platter; add chutney, and sprinkle with gusanos de maguey.
NUTRITION
Serving Size: 4 Chips (248g)
Calories: 450
Carbohydrate: 112g
Dietary Fiber: 5g
Protein: 1g