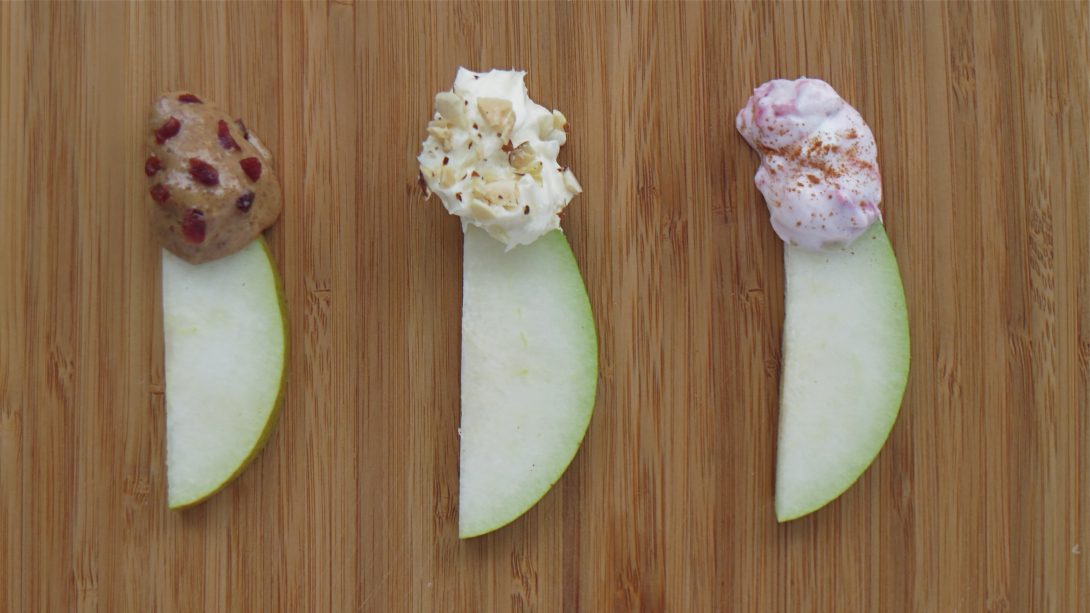 Three Different Dips for Fresh Pears
Here is a fun and simple way to serve fresh USA Pears as a snack or appetizer. I've taken already fiber-rich pears and added ingredients containing protein, calcium, and antioxidants. Whip up these three dips and store them in the refrigerator for up to three days. Simply pull them out to soften slightly before the kids get home from school or while waiting for guests to arrive. All that's left to do is slice up a few of your favorite USA Pears for dipping!
INGREDIENTS
¼ cup of your favorite nut butter
2 tablespoons dried cherries, finely chopped
4 oz. low-fat cream cheese, softened
⅛ – ¼ tsp. almond extract
3 tablespoons sliced almonds, toasted and chopped
1 (6 ounce) container plain or vanilla flavored Greek yogurt
8 – 10 fresh raspberries
cinnamon, for sprinkling
DIRECTIONS
Arrange three small bowls at your workstation. Into the first, add the nut butter and stir until smooth and blended. Top the nut butter with the chopped dried cherries. Into the second bowl, add the cream cheese and almond extract, and stir to combine. Sprinkle the cream cheese mixture with the toasted almonds. Into the third bowl, add the yogurt and raspberries, and stir well until the berries begin to break up and color the yogurt pink. Sprinkle the yogurt mixture with cinnamon. Lastly, cut the pears into wedges and serve alongside the three delicious dips.
NUTRITION
Serving Size: 97g
Calories: 170
Carbohydrate: 14g
Dietary Fiber: 2g
Protein: 8g