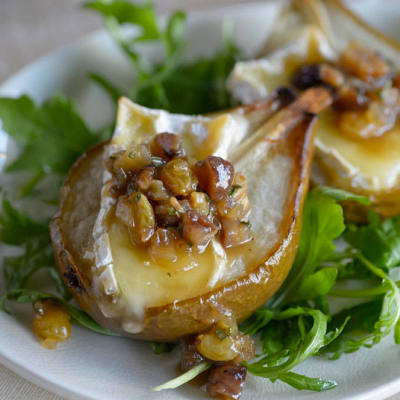 Roasted Pears with Camembert
INGREDIENTS
Chestnut Relish
1/2 cup unsweetened pear or apple cider
1/4 cup honey
1 large shallot, minced
1/3 cup golden raisins
3/4 cup chopped roasted chestnuts (fresh or canned)
2 tablespoons apple cider vinegar
1 teaspoon minced fresh rosemary
1 teaspoon kosher salt
Roasted Pears
3 large, ripe USA Pears, such as Concorde, Comice, or Green or Red Anjou
Extra-virgin olive oil
6 slices Camembert cheese
4 cups baby arugula leaves
DIRECTIONS
For the relish: Bring the cider, honey, shallot, and raisins to a boil in a small saucepan over medium-high heat. Reduce the heat to medium-low and simmer until the mixture thickens, 10 to 15 minutes.
Off the heat, stir in the chestnuts, vinegar, rosemary, and salt. Cool the relish to room temperature before serving, or cover and refrigerate up to 1 week.
To roast the pears: Preheat the oven to 375˚F. Halve and core the pears and place them in a baking dish. Rub them with just enough olive oil to lightly coat, and sprinkle all over with salt. Position the pears cut sides down and roast about 30 minutes.
Turn them over and continue roasting until tender, 5 to 10 minutes more. Lay a slice of Camembert on top of each and continue roasting just to melt the cheese, about 2 minutes.
To serve, toss the arugula with 1 tablespoon of olive oil and divide it among 6 salad plates. Place a warm pear half over each and top with a spoonful of the chestnut relish. Serve immediately.
NUTRITION
Serving Size: 1 Half Pear
Calories: 310
Carbohydrate: 46g
Dietary Fiber: 5g
Protein: 6g