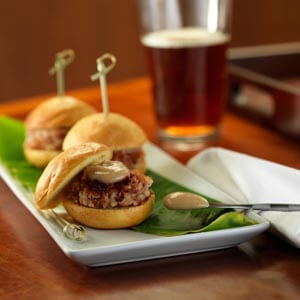 Bacon and Blue Cheese Sliders with Pear Ketchup
This delicious combination is perfect for your next party. The savory flavors of the bacon and blue cheese blend perfectly with the tangy, inventive pear ketchup. Developed by Chef John Therres of Renaissance M Street Hotel, Washington, D.C.
INGREDIENTS
Pear Ketchup
2 Anjou USA Pears
2 teaspoons clarified butter or vegetable oil
¼ cup diced sweet onion, like Walla Walla or Vidalia
1 cup clear apple juice or cider
2 to 4 tablespoons apple cider vinegar
⅛ teaspoon white pepper
Kosher salt to taste
Sliders
12 slices thick-cut bacon, well-chilled or frozen
3 tablespoons crumbled blue cheese
4 small soft rolls, preferably brioche
DIRECTIONS
To make the pear ketchup, peel and core the pears and cut them into large cubes. Warm the clarified butter or oil in a sauté pan over medium heat. Add the onions and cook until they become translucent. Add the pears and stir to coat with the butter or oil. Add the apple cider and cook over low heat until the liquid is almost completely absorbed. Set aside to cool.
Puree the mixture until completely smooth, and then add 2 tablespoons of vinegar and taste. The ketchup should be tangy, to help balance the fattiness of the bacon and cheese. Add the white pepper and salt to taste.
Preheat the oven to 350 degrees.
To make the sliders, use a food processor to chop the bacon. Keep the slices together and cut the bacon slab into several large chunks. Refrigerate or freeze the chunks until very firm. This will help keep the grind uniform, like ground beef, not mushy. Crumble the blue cheese into the ground bacon and form the mixture into eight 2-inch patties.
Place the patties on a baking sheet or cast iron skillet and cook for 10 minutes. Turn the burgers over and cook another 10 to 15 minutes or until the internal temperature is 170 degrees.
To serve, split the roll, toast if desired and spread one side with the ketchup.
yield: Makes eight sliders
NUTRITION
Serving Size: 1 Slider (256g)
Calories: 540
Carbohydrate: 51g
Dietary Fiber: 4g
Protein: 34g