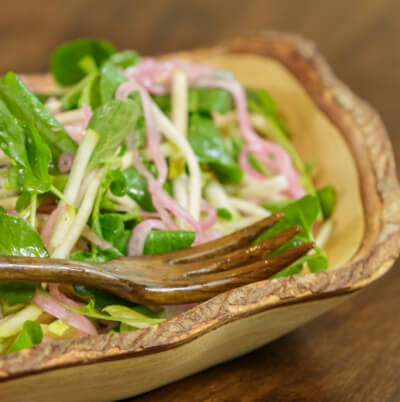 Pears add a fruity sweet flavor that really stands out in this delicious slaw.
INGREDIENTS
1 medium red onion, shaved
2 fresh thyme sprigs
4 ounces rice wine vinegar
2 ounces white sugar
1 ½ USA Pears, peeled, seeded, and cut into julienne strips on a mandolin (reserve peelings and seeds)
2 cups watercress, washed and picked (or substitute arugula or baby spinach)
Pinch of kosher salt
DIRECTIONS
Place the shaved red onion and the thyme sprigs in a small glass or non-reactive container. Combine the rice wine vinegar, sugar, and the reserved pear peelings and seeds in a small saucepan. Bring mixture to a boil. Strain liquid into the container holding the onions and thyme sprigs. Discard the pear peelings and seeds. Allow pickled onions to cool to room temperature and then refrigerate until cold.
Right before serving, strain the onions, reserving about 2 tablespoons of the pickling liquid. Discard the thyme sprigs and toss the pickled onions with the julienned pears, watercress, salt, pepper, and the 2 tablespoons of pickling liquid. Serve immediately.
NUTRITION
Serving Size: 4 oz
Calories: 90
Carbohydrate: 22g
Dietary Fiber: 3g
Protein: 1g