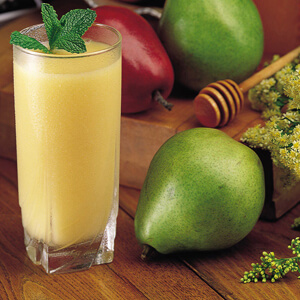 This power-packed pickup is great for breakfast. Use fully ripe pears to enjoy their maximum sweetness. Add berries or other fruits if desired—slushies offer endless possibilities!
INGREDIENTS
1 cup cored, pared, and coarsely chopped USA Pear, any variety
¼ cup orange juice
2 tablespoons fresh-squeezed lime or lemon juice
1 tablespoon honey
1 cup crushed ice
DIRECTIONS
Place all ingredients in blender container; blend for 45–60 seconds or until smooth. Pour into chilled glass and serve.
NUTRITION
Serving Size: 1 Cup
Calories: 90
Carbohydrate: 25g
Dietary Fiber: 3g
Protein: 1g