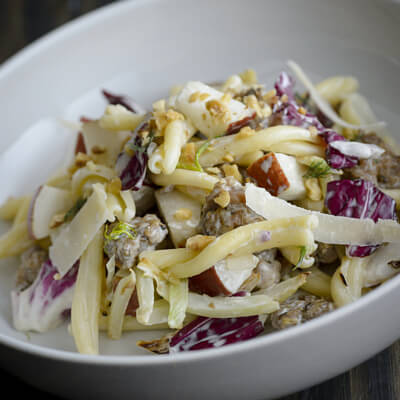 Spicy Chicken Sausage with Pasta
INGREDIENTS
1 pound whole-grain pasta, bite-size style such as Gemelli, Cavatappi, Fusilli or Penne
2 tablespoons olive oil
1 pound bulk Spicy Chicken Sausage (or your favorite)
2 shallots, sliced thinly
1 fennel bulb, sliced thinly
½ head of radicchio, torn into bite sized pieces
1 Red Anjou pear, cut into medium sized chunks, tossed with a squeeze of lemon
1 cup white wine
½ cup whipping cream
Salt and pepper to taste
½ cup shaved parmesan cheese
¼ cup toasted and chopped walnuts
¼ cup finely chopped parsley
DIRECTIONS
Start pasta water to boil and have all ingredients cut and measured and ready to cook. The idea is to time the pasta water coming to a boil halfway through cooking the ingredients, then finishing the sauce while the pasta cooks.
Heat a large saute pan over medium high heat for a couple of minutes, then add the oil. After about a minute, add the sausage to the pan, dropping pieces by the spoonful to brown. Break up any large chunks to cook evenly. When the sausage is cooked through (about 5 minutes) remove it from the pan onto a plate- keep warm. Add the shallots and fennel and saute until just starting to turn golden on the edges. Add the radicchio and toss to coat. Next add the pear pieces and work them gently to get into some hot oil to start to color-this should take another 5 minutes or so. Season with salt and pepper to taste. Remove vegetables to sausage plate.
Check the pasta water, make sure it is at a rolling boil. Add a generous pinch of salt and add your pasta. Stir well and let return to a boil. Turn the heat down, but allow the noodles to move well in the water.
Finish your sauce by adding the wine to the pan. Scrape up all bits and mix into wine. Let reduce by half. Add the cream and return to a simmer. Add salt and pepper to taste. Check the pasta for doneness, and have the strainer in the sink ready. Add the vegetables and sausage back to the pan and mix with the sauce. When the pasta is done, strain it, shake off any excess water and put into a pasta bowl for serving. Add sauced vegetables and sausage mixture and toss to coat. For serving, top each plated dish with parmesan, walnuts and parsley.
NUTRITION
Serving Size: 12 oz
Calories: 660
Carbohydrate: 68g
Dietary Fiber: 11g
Protein: 28g