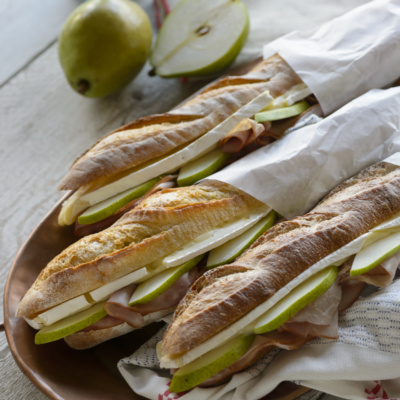 Shaved Ham and Pear Sandwich with Brie Cheese
"After a long winter of baking, soup-making, and braising, picnic season has finally arrived! We headed out to the gorgeous Hood River Valley last weekend to enjoy the nice spring weather and I created this delightful ham, pear, and brie sandwich to take along and celebrate the occasion.
"Based on the traditional French sandwich of shaved ham, butter, and soft cheese, my version has added firm-ripe pear slices and a thin layer of honey mustard for texture and sweetness. Wrap the sandwiches in butcher or parchment paper and take them packing or slice them into smaller lengths to serve as an appetizer at your next gathering.
"We enjoyed these sandwiches on the sunny patio of a winery in Lyle, Washington overlooking the Columbia River. The next morning, we drove from Hood River to Portland via Highway 35, where we saw thousands of pear trees in blossom. A perfect spring weekend!" – Hilary Finch Hutler, Tummyrumblr
INGREDIENTS
Your favorite crusty baguette
1 tablespoon salted butter at room temperature
2 tablespoons honey mustard
½ pound of good quality ham, shaved
2 firm-ripe USA Pears, such as Anjou, thinly sliced
½ pound Brie cheese (or any double cream, soft cheese), cut into ¼ inch slices
DIRECTIONS
Cut the baguette horizontally with a serrated knife into a top and bottom piece. Hollow out most of the soft center from the top of the baguette to make room for the filling. Spread the butter into a very thin layer on the bottom slice of the baguette and top with the honey mustard. Pile the shaved ham loosely on top of the mustard in an even layer. Next, top the ham with the pear slices, allowing them to overlap all the way down the length of the baguette. Lastly, place the cheese slices all along the top of the baguette to fill the hollow you have created, pressing down gently so that they will stay in place. Carefully place the top of the baguette onto the bottom, and slice the sandwich into four or more sections with your serrated knife. Enjoy immediately or wrap in paper and take the sandwiches on the road.
NUTRITION
Serving Size: 1 Sandwich (264g)
Calories: 540
Carbohydrate: 47g
Dietary Fiber: 5g
Protein: 27g
---
1 Comment » for Shaved Ham and Pear Sandwich with Brie Cheese