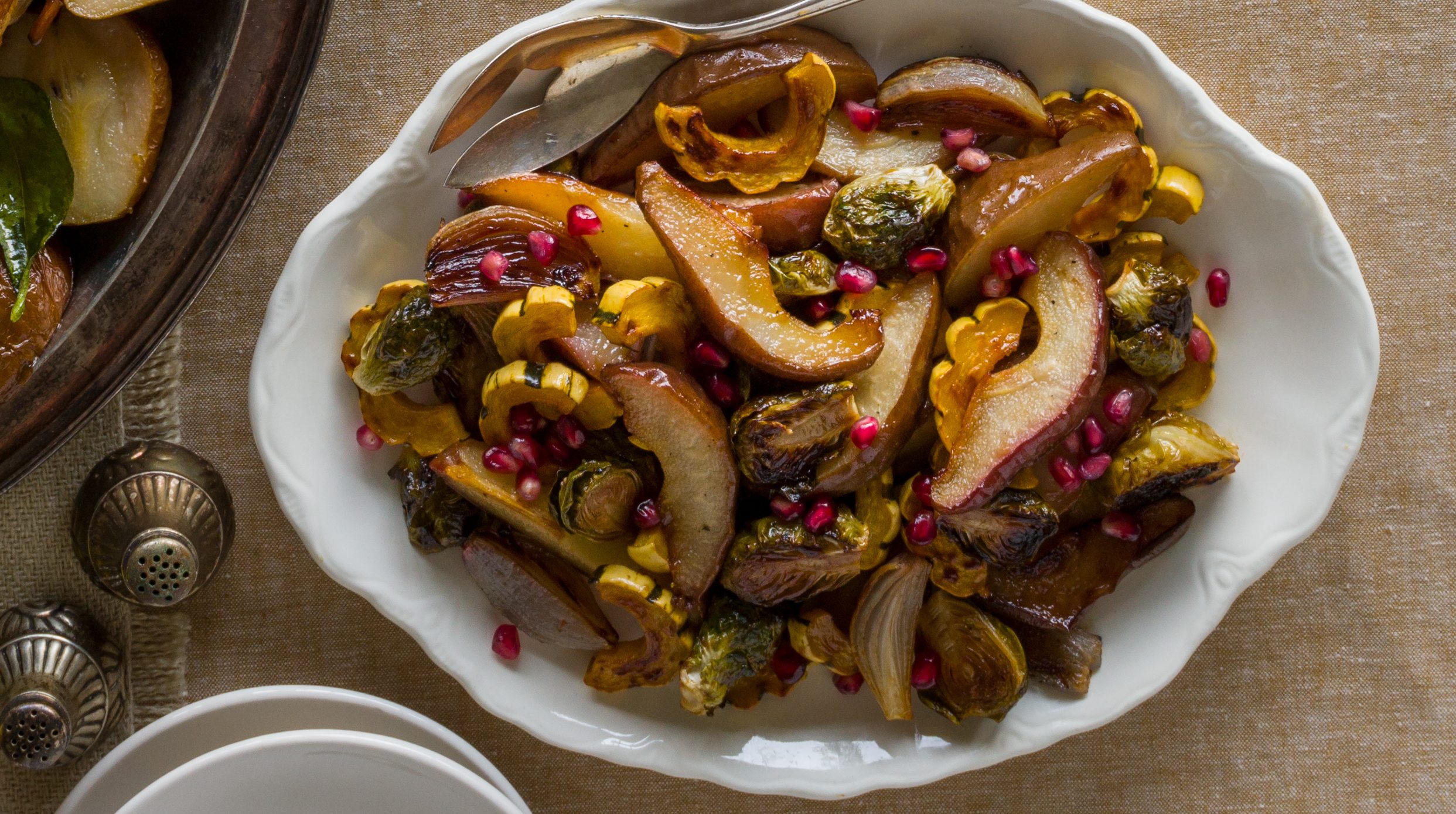 Roasted Pears with Delicata Squash
Roasted, savory, seasonal, fall fruits and vegetables like red Anjou pears and Delicata Squash are drizzled with a pomegranate glaze to make this amazing dish.
INGREDIENTS
1 small delicata squash (about 12 ounces)
2 tablespoons extra-virgin olive oil
2 tablespoons pomegranate molasses
1 teaspoon kosher salt
1/4 teaspoon freshly ground pepper
2 Red Anjou USA Pears, halved, cored, and cut into 6 wedges
8 ounces Brussels sprouts, trimmed and halved (keep any loose leaves)
3 large shallots, peeled, trimmed, and quartered lengthwise in half or quarters
1/4 cup fresh pomegranate arils
DIRECTIONS
Preheat the oven to 425°F. Halve the squash lengthwise and scoop out the seeds. Cut into 1/2-inch-thick moon-shaped slices.
Whisk together the olive oil, pomegranate molasses, salt, and pepper in a large bowl. Add the squash, pears, Brussels sprouts, and shallots and toss to coat evenly.
Spread the mixture on a large rimmed baking sheet in a single layer with the cut sides down. Roast tender and browned on one side, 20 to 25 minutes.
Loosen the pears and vegetables from the baking pan with a firm spatula and toss them all together. Transfer to a serving platter and sprinkle with the pomegranate arils. Serve hot or at room temperature.
NUTRITION
Serving Size: 1 Cup
Calories: 230
Carbohydrate: 41g
Dietary Fiber: 7g
Protein: 4g