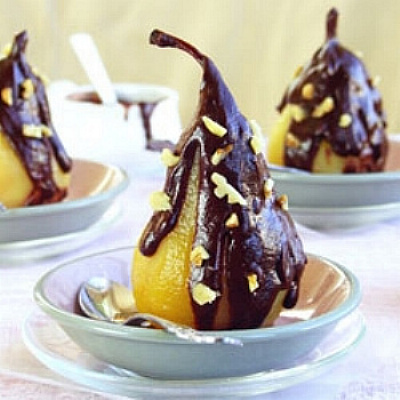 Poached Pears in Chocolate Sauce with Walnuts
Simple to make and yet oh so elegant Poached Pears in Chocolate Sauce with Walnuts are the pear-fect finishing touch to any dinner party.
INGREDIENTS
Poaching Liquid
4 Firm yet ripe Bosc pears, peeled with stems left on
1- 750 Bottle of red table wine
2  ¼ cups Brown sugar
2 ½ tbsp Chinese Five spice powder
4 Whole cinnamon sticks
7 -8 Whole cloves
½ cup Water
¼ cup Granulated sugar
Chocolate Sauce
1/3 cup Walnuts
½ cup Heavy cream
4 oz Semi-sweet baking chocolate
Fresh mint for Garnish
DIRECTIONS
In a medium-sized pot combine the ingredients for the poaching liquid.  Mix until combined thoroughly.
Stand pears up in the pot, and cover to make sure the pears are submerged completely.
Bring poaching liquid to a simmer and poach pears until they are fully cooked.  A toothpick should be able to be inserted into the pear easily.
Remove the pears from poaching liquid and let cool.
Toast walnuts at low heat (300°F) for 10 to 15 minutes or until they smell delicious.  Chop fine.
In a double boiler (or small saucepan over a low flame), heat cream.  Add chocolate.  As it melts, whisk to blend well.
Let chocolate sauce cool until slightly thickened.  Lift pear carefully, and dip the lower half into the sauce, turning to coat.  Roll each pear gently in the chopped walnuts and set on a serving plate.  Repeat with the other pears, spooning any leftover sauce around the bases.
Garnish with mint at the neck of the pear.
NUTRITION
Serving Size: 1 Pear
Calories: 600
Carbohydrate: 87g
Dietary Fiber: 8g
Protein: 5g