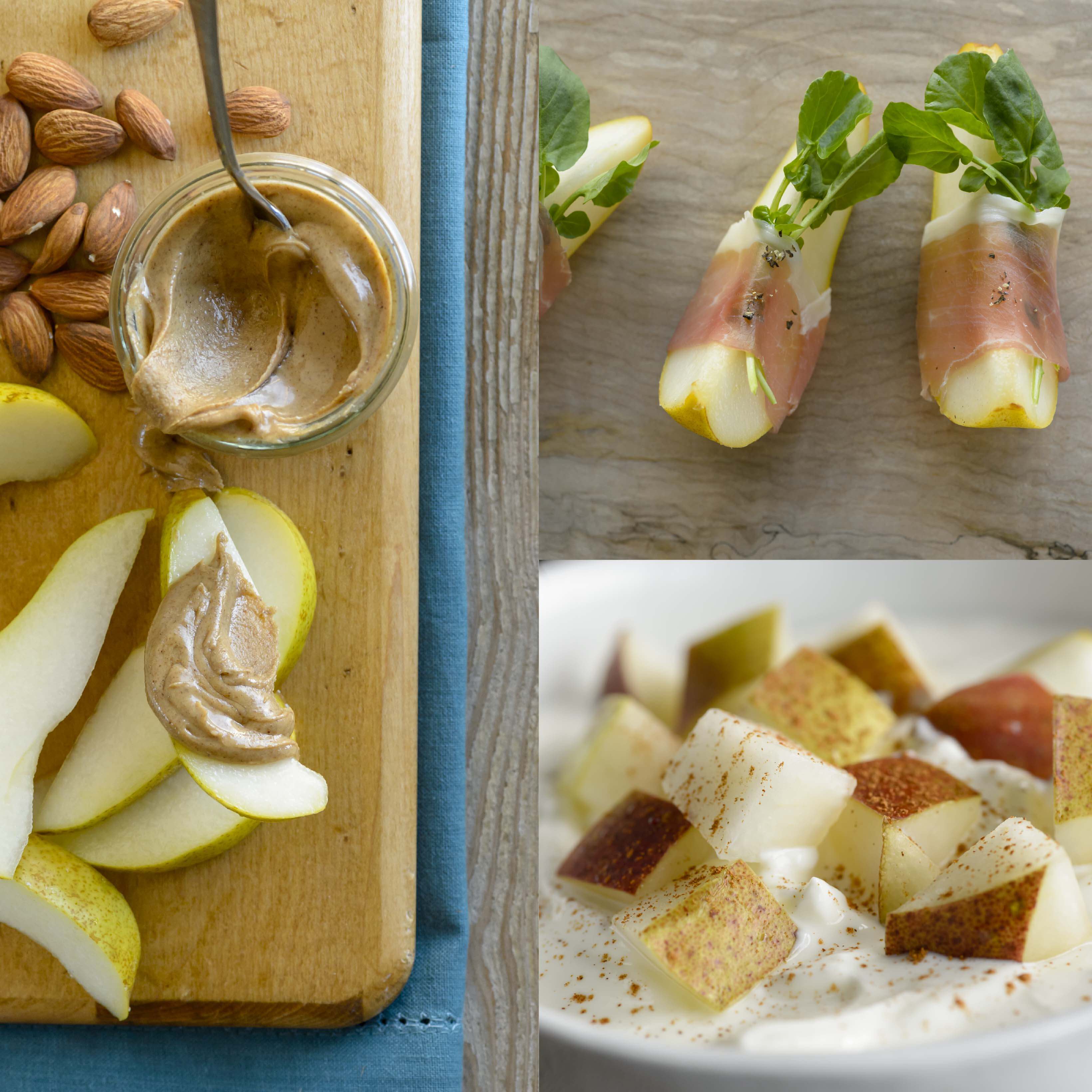 Easy pear recipe "hacks" help you simplify fresh snacking. Any way you slice a pear, you've got all the ingredients for a tasty, nutritious treat. Cubed, planked, poached or grilled, pears pack a potent punch of flavor, color and even fiber (6g or 24% of your daily recommendation in one medium pear)!
INGREDIENTS
See collection of ideas below.
DIRECTIONS
Pear and Almond Butter
Ingredients
1 ripe USA Pear
1 tbsp. almond butter or other nut butter
Directions
For an easy, nutritious snack, slice pear and either dip slices in almond butter or spread almond butter on pear.
Pear and Prosciutto
Ingredients
1 ripe USA Pear
8 slices prosciutto
Your favorite greens. We like Watercress. (optional)
Directions
Slice the pear. Place a small sprig of greens on top of each slice. Wrap with Prosciutto and enjoy.
Pear and Greek Yogurt
Ingredients
1 ripe pear
1 cup Greek yogurt
Cinnamon or honey (optional)
Directions
Chop pear into bite-sized squares and use to top yogurt. Or slice and dip.
Some Other "Hacks" to Get More Pears in Your Life
Mix diced pears into oatmeal or a bowl of cereal
Glaze pear slices in butter and maple syrup and serve over whole-grain pancakes or waffles
Slide pear pieces onto skewers with other fresh fruits for a fun snack
Top grilled pork or chicken with pear puree
Slide pear slices into sandwiches, quesadillas, or paninis
Sprinkle pear pieces into homemade salsas and chutneys
Combine (or replace) apples with pears in a pie filling or sauce
Poach pears with vanilla bean and cinnamon for dessert
NUTRITION