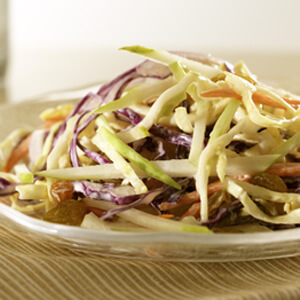 Pair this crisp slaw with grilled chicken or ribs, or serve as a salad.
INGREDIENTS
¼ cup low-fat mayonnaise
¼ cup low-fat plain yogurt
3 tablespoons rice wine vinegar
2 teaspoons sugar
2 teaspoons salt
4 cups finely shredded red or green cabbage, or a combination
½ red onion, thinly sliced
2 cups shredded or julienned carrots
¾ cup golden raisins
3 large firm USA Pears, cored and thinly sliced or julienned on a mandolin
DIRECTIONS
Measure mayonnaise, yogurt and rice wine vinegar into a non-reactive bowl. Add sugar and salt to taste and whisk smooth.
Combine cabbage, onion, carrots and raisins and toss together.
Pour dressing over cabbage and mix to coat evenly before adding julienned pears and gently tossing to distribute throughout. Serve immediately.
NUTRITION
Serving Size: 6 oz
Calories: 140
Carbohydrate: 31g
Dietary Fiber: 5g
Protein: 2g
---
1 Comment » for Pear and Cabbage Slaw