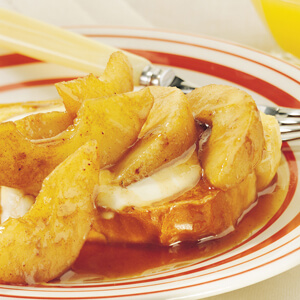 Maple Glazed Pears with French Toast
What a treat for a casual family breakfast or a holiday brunch! Try the maple-glazed pears as a topper to other breakfast favorites like pancakes or waffles. The pears can be made ahead, cooled, covered, and refrigerated for up to 3 days. Simply re-warm before serving.
INGREDIENTS
Maple-Glazed Pears
1 cup maple syrup
4 tablespoons (½ stick) butter
2 teaspoons ground cinnamon
¼ teaspoon freshly grated nutmeg
Pinch of salt
5 firm but ripe Bartlett or Anjou USA Pears, peeled, halved lengthwise, cored, and each half cut lengthwise into 5 wedges
French Toast
3 large eggs
⅓ cup milk
8 thick slices bread
Butter for griddle
DIRECTIONS
For pears: In a 10-inch saute pan over medium heat, warm the syrup and then add the butter. Stir until the butter is melted, about 2 minutes. Stir in the cinnamon, nutmeg, and salt. Add the wedges of pear and simmer, basting frequently, until the pears are tender when pierced with a knife, about 10 minutes. Set aside and keep warm.
For French toast: Combine the eggs and milk in a medium bowl and beat until well combined. Add a pinch of salt. Heat a griddle or large skillet over medium-high heat. One at a time, dunk a slice of bread into the egg mixture, coating both sides of the bread thoroughly. Dunk as many slices as will fit on the griddle and reserve the rest for a second batch. Lightly butter the griddle or pan and arrange the coated slices in the pan. Cook on one side until nicely browned and then turn and brown the other side. Keep warm while you make the second batch.
Have 4 warm plates ready. Arrange 2 slices of French toast on each plate and top with some of the maple-glazed pears, spooning extra sauce over top. Serve immediately.
NUTRITION
Serving Size: 13.5 oz (382g)
Calories: 630
Carbohydrate: 113g
Dietary Fiber: 9g
Protein: 11g