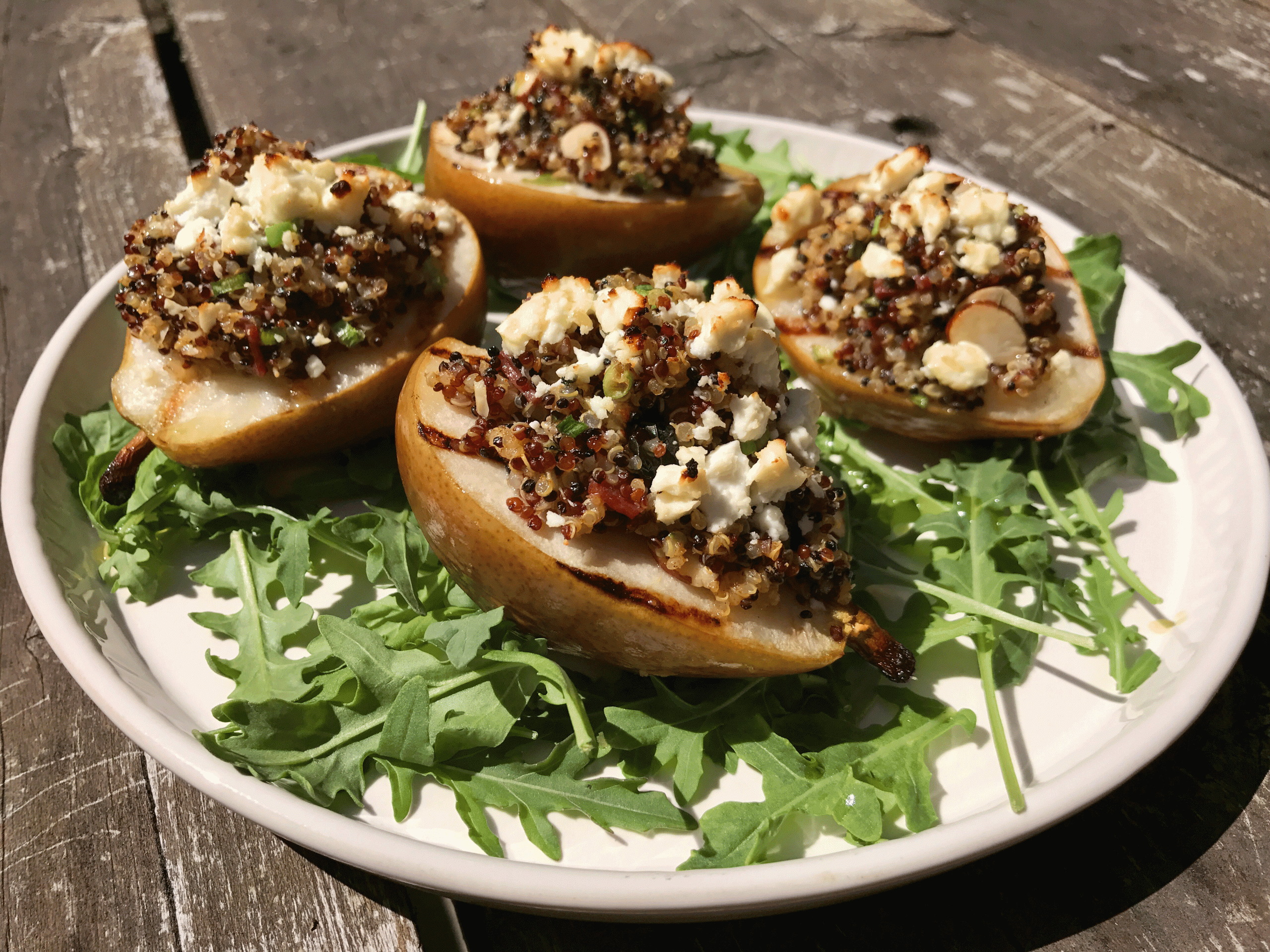 When it comes to summer grilling, pears are often overlooked. But the fact is their hardy texture is ideal for standing up to the intensity of the grill, and as they cook, their delicious flavor is enhanced by the smoky flames. Grilled pears can be prepared in both sweet and savory ways: think grilled pear halves topped with a scoop of vanilla ice cream for dessert, or sliced grilled pears tossed in a summery salad. Here they are cooked on the grill until just tender and juicy, with a quinoa salad stuffing that evokes flavors of the Mediterranean. Extra-virgin olive oil, Spanish-style chorizo, and fresh mint add a bold, summertime flare, while white balsamic vinegar adds a sweet, fruity tang to complement the flavors found in the grilled pears. Serve these at your next backyard barbecue, for an outside-the-box appetizer or entrée.
INGREDIENTS
4 USA Anjou pears
Salt and freshly ground black pepper
2/3 cup quinoa, rinsed and drained
2 tablespoons extra-virgin olive oil, plus more for drizzling
2 tablespoons white balsamic vinegar (sometimes labeled "golden" balsamic vinegar)
1/3 cup chopped dry-cured Spanish chorizo
1/4 cup sliced or coarsely chopped almonds, toasted
1/4 cup thinly sliced scallions
2 tablespoons chopped fresh mint
1/2 cup crumbled feta
8 cups baby arugula
DIRECTIONS
Put the quinoa in a small saucepan and add 1 1/4 cups water and 1/2 teaspoon salt. Bring it to a boil over high heat. Reduce the heat to maintain a gentle simmer, cover, and cook until the water is absorbed, about 15 minutes. Remove the pan from the heat and set aside, still covered, for 5 minutes. Uncover and fluff the quinoa with a fork. Drizzle in the olive oil and vinegar, and sprinkle with salt and pepper to taste. Toss the hot quinoa to coat evenly, then spread it out on a platter to cool to room temperature. Once cooled, add the chorizo, almonds, scallions, and mint and gently toss to incorporate. Taste and adjust the seasoning.
Prepare a hot fire in a gas or charcoal grill, or preheat a stovetop grill pan until smoking hot. Grease the grill grates with oil.
Meanwhile, cut the pears in half. Using a round metal spoon, such as a tablespoon-sized measuring spoon or a melon baller, remove the core plus a little extra flesh. Rub the pears on all sides with a light coating of olive oil and sprinkle them with salt.
Grill the pears on the cut sides until deep grill marks appear, 3 to 5 minutes. Turn the pears over and fill them with the quinoa stuffing, piling it on in a big heap in the center of each one. Sprinkle the tops with the feta. Close the grill lid and continue grilling until the pears are tender when pierced with a fork and the feta topping is lightly browned, 10 to 15 minutes, depending on the ripeness of the pears. If they seem to be cooking too quickly on the bottom before they become tender within, simply move them to a cooler part of the grill and continue grill roasting, with the lid closed, until they are cooked through.
Serve the hot grilled pears over the arugula, finished with a drizzle of olive oil over the pears and greens.
NUTRITION
Serving Size: 1 Half Pear (206g)
Calories: 260
Carbohydrate: 29g
Dietary Fiber: 5g
Protein: 8g