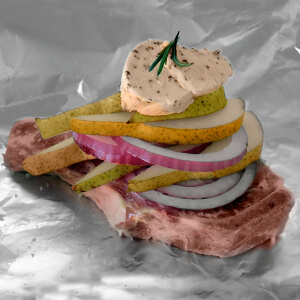 Grilled Pork Chops with Pears and Rosemary Butter
Here is a satisfying recipe that can be made outside on the grill in under thirty minutes. The pork, pears, and rosemary butter are all wrapped up into foil packets, which results in an incredibly tender pork chop that creates its own amazing sauce while it cooks. These grilled pork chops with pears would make a great summer dinner on a hot day alongside some grilled corn on the cob, but they will also make for an equally amazing meal this fall with roasted squash on the side. " – Hilary Finch Hutler,
Tummyrumblr
INGREDIENTS
3 tablespoons salted butter, softened
1 teaspoon minced fresh rosemary, plus four sprigs for garnish
4 bone-in pork chops, about 6 ounces each
Salt and freshly ground black pepper
1 medium red onion, sliced into ⅛ inch rings
2 firm ripe USA Pears, such as Anjou, sliced into ¼ inch pieces
DIRECTIONS
Stir the softened butter together with the minced fresh rosemary and place in the refrigerator to firm up. Preheat your grill to medium heat. Place each pork chop onto its own rectangle of aluminum foil. Season the chops generously with salt and pepper on both sides. On top of each chop, layer a slice of onion followed by three or four pear slices. Add another layer of onion and then more pear slices on top.
Divide the rosemary butter between the chops, placing it on top of the onion and pear so it will melt down onto the pork. Top each stack with a sprig of rosemary. Carefully wrap the foil up around each chop and seal at the top. Place the packets onto the grill and cook for 15-18 minutes, or until the pork is cooked through. Transfer the chops to plates and pour over any liquid that remains in the foil packet.
NUTRITION
Serving Size: 1 Pork Chop
Calories: 360
Carbohydrate: 17g
Dietary Fiber: 4g
Protein: 39g
---
1 Comment » for Grilled Pork Chops with Pears and Rosemary Butter