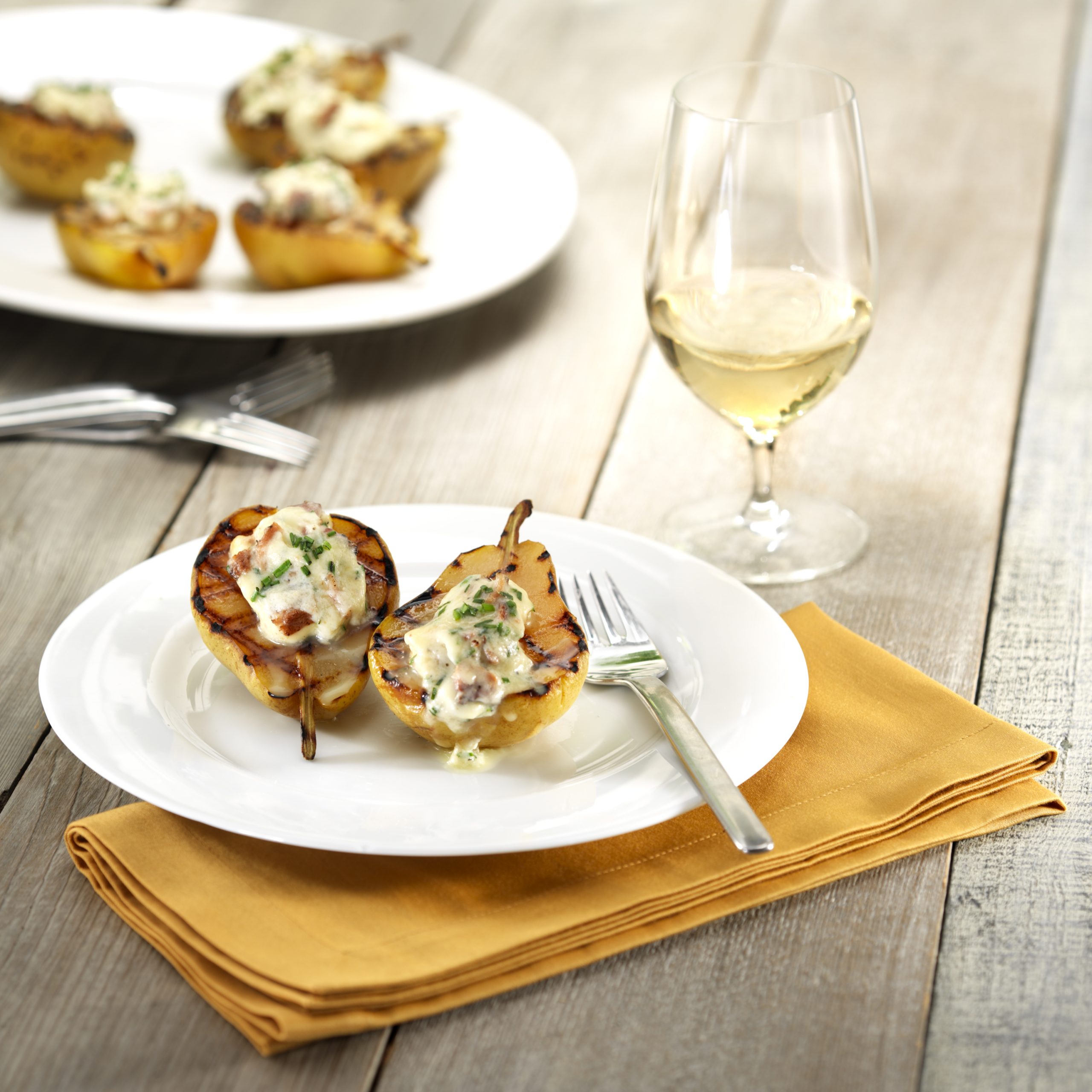 Grilled Pears Stuffed with Mascarpone and Bacon
This recipe is truly addictive. A fresh pear is gently poached before tossing on the grill to be lightly caramelized. The dish is finished with a sweet-salty mascarpone and bacon mixture that bubbles as it melts. Did you know your grill could do this with pears? This recipe was created for Pear Bureau Northwest by Chef Geoff Kelty of Eddie Merlot's Prime Aged Beef and Seafood in Columbus, Ohio.
INGREDIENTS
Pear Halves
1 cup granulated sugar
1 cup water
1 cup white wine
Juice of ½ lemon (about 3 tablespoons)
1 vanilla bean, split and scraped
1 medium Bartlett USA Pear, cut in half
Mascarpone Filling
¾ cup mascarpone cheese
2 slices bacon, cooked and crumbled (to make ¼ cup)
1 teaspoon finely chopped chives
½ teaspoon salt or to taste
¼ teaspoon freshly ground black pepper
DIRECTIONS
Combine the sugar, water, white wine, lemon juice, and vanilla bean (with seeds) in a small saucepan. Bring the mixture to a simmer for 5 minutes, or until the sugar has dissolved.
Remove the core from the pear halves with a melon baller and use a small paring knife to remove the stem. Add the pears to the liquid and simmer over low heat until they turn slightly translucent and become tender, about 10 to 12 minutes. Allow the pear halves to cool slightly in the liquid before removing and draining.
Make the filling by mixing the mascarpone, crumbled bacon, chopped chives, salt, and black pepper in a small bowl until the ingredients are well distributed. Set aside.
To grill the pears, lightly coat the grill with vegetable oil and preheat to high, about 400 degrees.  When it is hot, place the pears cut side down on the grill for 4 to 6 minutes, or until the flesh is lightly caramelized. Turn the pears over and fill them with about two tablespoons of the mascarpone mixture. Remove the pears from the grill when the mascarpone begins to melt. Serve immediately.
To serve, arrange each pear half on a plate with some of the remaining mascarpone mixture on the side. Garnish with chopped chives.
yield: Makes 2 servings
NUTRITION
Serving Size: 1 Half Pear
Calories: 600
Carbohydrate: 40g
Dietary Fiber: 3g
Protein: 10g