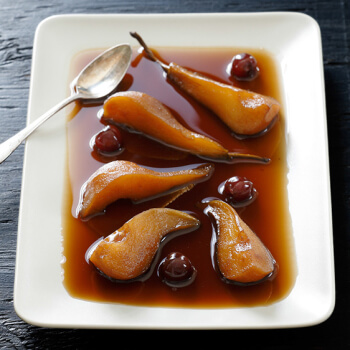 Espresso and Cherry Poached Pears
Wake up your dessert offerings with these espresso and cherry poached pears. Sweet and smooth, they're heavenly with vanilla ice cream or frozen yogurt. It doesn't hurt that they look like artwork on a plate.
INGREDIENTS
12 Amarena cherries (can substitute fresh black cherries, pitted)
3 shots of your favorite espresso (can substitute 8 ounces of very strong coffee – if doing so, reduce water by ¼ cup)
2 ½ cups water
1 ¼ cups white sugar
¾ teaspoon almond extract
3 firm USA Pears, such as Bosc, peeled, cored, and quartered
1 tablespoon kirsch (or other cherry brandy)
DIRECTIONS
Place the cherries, espresso, water, sugar, and almond extract into a medium saucepan. Peel and quarter the pears and scoop out the cores. Place the pears into the saucepan and cover with a piece of parchment paper to keep them submerged. Turn the heat to medium high, cover the pot, and bring the liquid to a simmer. Once simmering, reduce the heat to medium low and cook the pears for 12-15 minutes or until tender when pierced with a fork. Carefully remove the pears with a slotted spoon and set aside to cool. Increase the heat to high and boil the sauce for 15-20 minutes, checking it often, until reduced to about 1 cup. Add the kirsch to the reduced sauce and allow it to cool slightly. Return the pears to the sauce and stir gently. Serve three pear quarters per person with plenty of sauce and cherries. Top with a scoop of vanilla bean ice cream and more cherries if desired. The pears and sauce will store in the refrigerator for up to three days.
NUTRITION
Serving Size: 3 Quarter Pear Slices
Calories: 340
Carbohydrate: 85g
Dietary Fiber: 5g
Protein: 1g