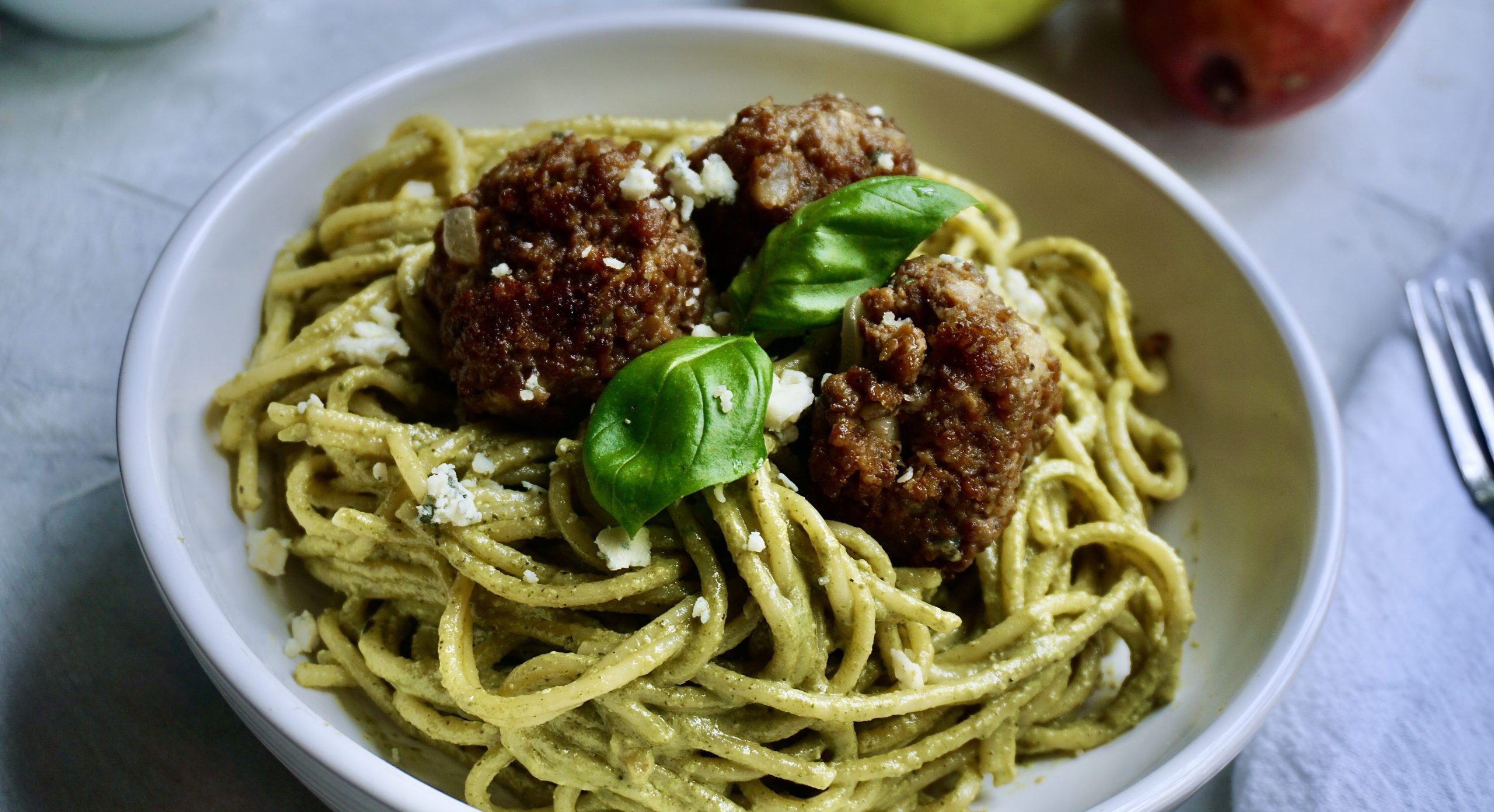 Beyond Beef Pear and Gorgonzola "Meat" Balls with Basil Walnut Pesto
Swap out ground beef for Beyond meat with this quick, simple and flavorful dish! Recipe by Dina Deleasa-Gonsar.
INGREDIENTS
"Meat" balls:
1 lb plant-based ground "meat"
2 tbsp tbsp breadcrumbs (I use Italian style)
1/2 cup Gorgonzola cheese, crumbled
1/2 tsp kosher salt
1/2 tsp pepper
1 tsp dried basil
1 tbsp olive oil
1 tbsp garlic, minced
1/4 cup yellow onion, chopped
1 pear, sliced then chopped about 3/4 cup of chopped pear
Basil Walnut Pesto:
1/2 cup olive oil
1 lemon, juiced
4 tbsp Parmesan cheese, grated
2 cups basil leaves, fresh
3 garlic cloves
a pinch of salt
1/2 tsp pepper
pinch of red pepper flakes
1 lb spaghetti cooked according to package directions, reserve some pasta water!
DIRECTIONS
"Meat" balls:
1. In a large bowl combine the ground meat, breadcrumbs, gorgonzola cheese, salt, pepper, and basil
2. Meanwhile, preheat a large saute pan with the olive oil
3. Add the garlic and onion, let it saute over a medium heat for 2 minutes. Then add in the pears, gently moving around the pan. Let everything saute for 5 minutes, moving the mixture around the pan every so often to prevent burning.
4. Once the pears have started to brown turn the heat off and let the mixture cool down before adding it to the bowl with the rest of the ingredients.
5. Once cooled, add the pear mixture to the mixing bowl. Mix until well combined, preferably with your hands! Then make 1 and a 1/2 inch size balls. Roll the mixture in your palms, you may also have to do a little work forming the actual ball.
6. Again, add more olive oil to the saute pan you used for the pears. Use a medium flame. Add the meatballs and cook until brown on all sides. I used tongs to gently turn the meatballs over.
7. When the meatballs have developed a nice crust, remove them from the skillet.
Walnut Basil Pesto
8. Fill a large pot with water and bring it to a boil. Cook your pasta until al dente, typically 8 minutes for spaghetti. Then drain, making sure to reserve about 1.2 cup of the pasta water.
9. To the bowl of a food processor or Vitamix blender add basil, garlic, walnuts, Parmesan, lemon zest, juice, salt, pepper and red pepper flakes. Pulse a few times to chop up the garlic, and basil.
10. In a steady stream add the olive oil, pulsing until the olive oil is well blended and the mixture becomes smooth.
11. Toss the pesto sauce with the pasta, until well coated. If the pesto is to think add the pasta water a tablespoon at a time until you reach your desired consistency.
12. Top with the Pear and Gorgonzola Meatballs and serve.
RECIPE NOTES: Save some of the pasta water to help loosen up the pesto if needed. If you are used to working with regular ground beef for meatballs just be aware that working with the plant based meat needs a little extra care. The meatballs are little less sturdy in the pan so be gentle when moving them around.
NUTRITION